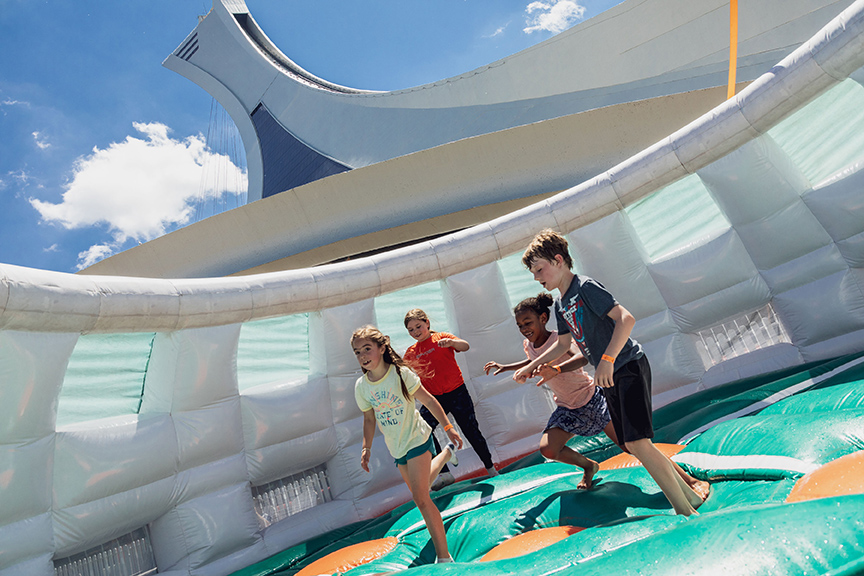 Welcome to Îlots76!
A village of activities with food, snacks and drinks located at the foot of the Olympic Stadium.
In collaboration with the olympic Park, the Ecorecreo Group created a family village at the foot of the Tower. It will become the anchor of any visit in the various attractions  of the olympic Park, particularly for families with children aged 2 to 12.
Playground area
Îlots76 offers a playground where your children can spend their energy while you take a coffee break in our Adirondack chairs and watch them have fun. Come and discover our different bouncy castles, including one in the shape of the Olympi c Stadium!
Rates
Here are the rates for participating in activities at the Îlot76 playground. Access is free for those who do not participate in the activities and just want to watch.
Purchase tickets on site only. No booking required.

1H Access
---
Access to all bouncy castles.

2H Access
---
Access to all bouncy castles.

Day Pass
---
Access to all bouncy castles.

Season Pass
---
Access to Îlots76 for the 2023 season.
Access to all bouncy castles.
Food and Beverages
Treat yourself to some food and a moment of relaxation during your visit at Îlots76.

Frozen Snacks
Enjoy our tasty frozen snacks to cool off on hot days.

Coffee and Pizza
Whether you're looking for a coffee or a delicious pizza, our bistro will satisfy your cravings.

Poutine
Our poutine food truck offers a Montreal classic bound to please everyone.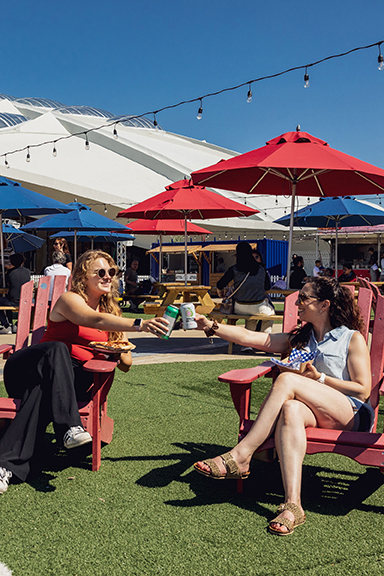 Frequently Asked Questions
---
Here are the answers to the most frequently asked questions about Îlots76.
Head over to the foot of the stadium in the Grande place between the entrances of the Sports Center, the Biodôme and the Planetarium.
2
How old to you have to be to participate?
Even though everyone can have fun in the bouncy castles conceived s pecially for Îlots76, the activities are mostly adapted for families with kids between 2 and 12 years old.
The best place to park is in the Olympic Park parking lot located at 3200, Viau street.
4
How do I get there using public transport ?
You can get to Îlots76 using public transport, we are located right next to the Viau metro station on the green line.
5
How long does the activity last ?
Tickets for the playground area are for 1h and can be upgraded for more time on site. Access to the restauration area is reserved for customers and has no time restriction.
Opening hours
Open starting April 9th till the end of October.
How to find us
We are located at the foot of the Olympic Stadium at the entrance of the Biodôme and the Planétarium.
---
Ilôts 76
Address located nearby:
4141 Pierre-de Coubertin Ave
Montreal, Quebec H1V 3N7
---
(514) 665-7067
[email protected]